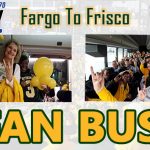 The 970 WDAY Fargo to Frisco Fan Bus is taking reservations for the FCS Title game on Saturday, January 5th 2019 at Toyota Stadium in Frisco, Texas!  
The NDSU Bison football team is back in the FCS playoffs and playing for another shot at a trip to Frisco and a national championship! Don't wait! Reserve your seats today on the 970 WDAY Fargo to Frisco Fan Bus so you can be there to cheer on the Bison football team if they make the big game. Leave the driving  and planning to us! Our bus travels Thursday, January 3rd through Sunday, January 6th.
Fargo to Frisco Fan Bus FAQ
How much to ride the bus?
Pricing:
Single: $725 per person
Double: $675 per person
Triple: $610 per person
Quad: $525 per person
***Pricing DOES NOT INCLUDE meals or game tickets. The price includes the ride to Frisco, Texas and back to Fargo along with hotel accommodations for 3 nights. You will need to secure your own tickets for the game.
–How do I reserve my seats? Seats can be reserved by calling our front desk Monday through Friday between 8am and 5pm at 701-237-6500. We do require full payment up front to guarantee a hold on your seats. If the Bison do not make it to FCS title game in Frisco, the entire payment will be refunded to you.
What method of payment is accepted? Credit cards, checks or cash. Credit cards can be taken over the phone or in person.
–Can I transfer my tickets? Yes you can. We will not refund you after it's determined NDSU will be in the game, so any payment between you and a party you want to transfer your seat or seats to will have to be worked out privately. If you do transfer your seats to another party we will need an email from you with the names and contact information of those who will be taking your spots.
–Do you have game tickets available for purchase? Unfortunately we do not have game tickets available for sale. You will need to secure your own game tickets.
—Can we bring food/alcohol on the bus? Yes, you can bring your own food and alcohol on the bus!
—Does the bus have WiFi and power? Yes to both. Please keep in mind that WiFi can be spotty (or not work) at times while traveling, especially when it comes to streaming video etc. If you can download entertainment on your devices prior to the trip that's always the safest option to ensure it's available to you.
–Is there an age restriction? No. Our bus is family friendly!
More questions? Call 701-241-5374 and leave a message or email mkapel@wday.com and we'll get back to you with the answers.
**Once the trip is underway, no refunds for weather related issues or any other possible act of God, including illness, that prevent the bus from making the final destination on time. No refunds if the FCS Championship game is canceled or postponed.
**Game times, itineraries, hotel accommodations and bus lines are subject to change without notice.
**WDAY reserves the right to cancel any trip at anytime with notice.
Itinerary 
Thursday, January 3rd 
The bus will leave Fargo from the WDAY building at 301 8th Street South in Fargo at 7am on Thursday, January 3rd. We will have free off-street parking for your vehicle in our parking lot at WDAY. The lot is along 4th avenue south between 8th and 9th streets. We'll have staff out there to guide you to where you need to park that morning.  We ask that you arrive by 6:30am so we can get everything and everyone loaded up to head out at 7am. We'll have 3 stops along the way, two –  1/2 hour stops and a longer 1 hour lunch stop. Arrive in Topeka, Kansas around 5 or 6pm.  Once we get checked in at the hotel the bus will head out to the mall in Topeka where they have several restaurant options to choose from that are in close proximity to each other.
Friday, January 4th
Leave Topeka at 6am. Lunch stop TBD. Arrive at the hotel in Frisco, Texas around 3pm Friday afternoon. 

Bus will take you to and from the pep rally Friday night (details TBD)
Saturday, January 5th
Bus will leave the hotel for the stadium around 7am. Game is an 11 a.m. kick-off. We'll load up all luggage at this time, as we'll be leaving the stadium to head back toward Kansas 1 hour after the game ends. That will put us in to Topeka around midnight Saturday.
Sunday, January 6th
Leave Topeka 8:30am. Back to Fargo approximately 7pm.

**Fargo to Topeka, KS is 582 miles

**Topeka, KS to Frisco, TX is 485 miles